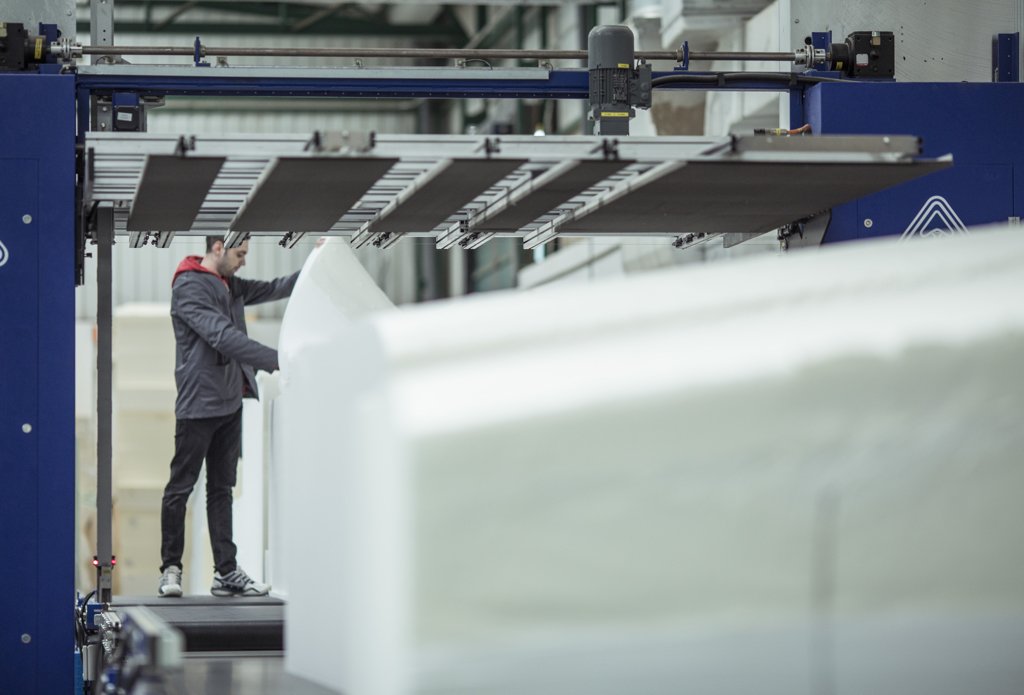 El poliuretano flexible Contact HR es un producto innovador y fruto de una larga investigación. Gracias a su alta resiliencia se caracteriza por una gran elasticidad y durabilidad a lo largo de su uso. Su extrema flexibilidad nos ofrece una comodidad insuperable por lo que tiene un amplio uso para el sector del descanso.
Su riguroso proceso de fabricación y control de calidad le proporcionan una estructura ligera de células abiertas que asegura una perfecta transpiración y adaptabilidad. Estas propiedades son óptimas para el descanso y la salud ya que hacen que el material se amolde al cuerpo mejor que cualquier otra materia prima.
Núcleos de colchones hechos por la espuma HR contienen millones de canales microscópicos. La red de estos finos conductos garantiza una perfecta ventilación y desaparición de humedad, aumentando aún más la comodidad y la vida útil de los colchones, y además crea un microclima ideal para dormir.
Estas son sus características principales:
Densidad aparente 40kg/m3 +/- 6% (UNE EN ISO 845:1996)
Dureza de la compresión 3,3 +/- 7 Kpa (UNE-EN ISO 3386-1:1998)
Support factor 2,7% +/- 5%
Compressión set (75%) Max 5,0% (ISO 1856:2000)
---
Contact HR flexible polyurethane is an innovative product and the result of a long investigation. Thanks to its high resilience is characterized by high elasticity and durability. Its extreme flexibility offers unsurpassed comfort so is widely used for the bedding industry.
Its rigorous manufacturing process and quality control give it a light open-cell structure that ensures perfect breathability and adaptability. These properties are optimal for rest and health as they make the material conform to the body better than any other raw material.
Mattress cores made by HR foam contains millions of microscopic channels. The network of these fine ducts ensures perfect ventilation and moisture disappearance, further increasing the comfort and the life of the mattress, and also creates an ideal sleeping microclimate.
These are its main features:
Bulk density 40 kg/m3 +/- 6% (UNE EN ISO 845:1996)
Compression hardness 3,3 +/- 7Kpa (UNE-EN ISO 3386-1:1998)
Support factor 2.7% +/- 5%
Compression set (75%) Max 5.0% (ISO 1856: 2000)
https://interplasp.com/wp-content/uploads/2016/03/53A8920.jpg
695
1024
Prensa
https://interplasp.com/wp-content/uploads/2016/09/fabricantes-espuma-poliuretano-1.png
Prensa
2016-03-17 15:24:24
2016-03-17 15:28:55
Espuma Contact HR / Contact HR Foam